Company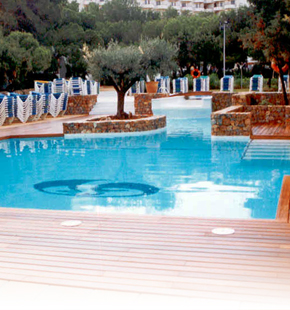 History
Piscinas Pepe was established in the summer of 1980 by José "Pepe" Sánchez Buendía.
Today, the company is managed by his sons José María and David Sánchez González. Our father (Pepe) is considered something of an institution in the swimming pool sector on the island of Ibiza, and therefore being in charge of the company is both a source of a pride and also a huge responsibility.
Service Orientation and Quality
This company, founded by José Sánchez Buendia (Pepe), has, since its foundation, aimed to provide a quality service to clients. Today, our best clients are also our friends.
Our activities are focussed on:
Maintenance and technical service of swimming pools.
Designing and building high-quality concrete pools.
Installing purification systems, pool lighting and heating.
Selling products for pools and spa-jacuzzis.
30 years after its foundation, Piscinas Pepe is a well-established company within the sector and one that is continually progressing and developing
With more than 400 regular maintenance clients (we are the leading company in Ibiza), and having constructed over 500 swimming pools on the island, our goal has always been to provide a quality service focussed on customer satisfaction.
We have 300 m2 of office and exhibition space on Avda. Dr. Fleming, 24 bajo, ground floor, 07820 Sant Antoni - Ibiza and a total of 500 m2 warehouse space and 500 m2 free parking area.
We have around 15 staff members, all of whom are highly qualified and experienced in their area of work.
Vision for the future
Our company has been experiencing very significant growth in recent years. As a result, we are preparing to make that growth sustainable, robust and orderly. Our strategy includes:
Obtaining the UNE-EN ISO 9001-2000 quality management system certification
In January 2005, our company began implementing a quality management system aimed at ensuring the highest level of quality for our products and services and thus maximum satisfaction for our customers. In November 2005, following a certification audit accompanied by a favourable report from the external company auditor, we obtained the European Quality Certificate. We are extremely proud to be the first and the only pool company in Ibiza to obtain this distinction.
Part of the AQUAMAR 2000 group of companies since October 2004.
Aquamar is the first group of companies in the swimming pool area to become fully consolidated nationwide. We joined it in order to be able to choose suppliers and make group purchases, thus obtaining very significant advantages and favourable discounts. The Aquamar group currently has the largest purchasing volume in the pool sector and is composed of more than 30 companies nationwide, which are selected according to very strict criteria and requirements.
Cutting-edge technology.
Piscinas Pepe employs the latest technology, including Gunite concrete equipment and hydraulic piston wet concrete spraying. This means that the concrete to be sprayed under pressure arrives directly from the plant in trucks, and the quality is thus assured and certified. This machine has a maximum volume of 20 m3/h. The complete concrete of the swimming pool is set in just one day and in a single piece.
For swimming pool maintenance, we have an online follow-up service for our clients. They can go into their records using password-controlled access and view all the pool maintenance activities carried out, see the state of the pool and photographs of the pool following each service. Our operators have terminals which are permanently connected to the Internet. These are used to record the service activities, photographs, etc. which are immediately stored on our internet server so that they can be consulted by our clients.